With Caramelized Brown Sugar Apples & Bittersweet Cocoa Cream
Familiarize yourself with financiers (and brown butter), and your dessert options increase ten-fold, even late at night when you're desperate and the cupboards are bare.
Eager to get cooking? Skip To Recipe.
---
Financiers, pronounced finn-anh-see-ae, are small French nut cakes that should absolutely be in your baking repertoire even if you don't have a baking repertoire. They are easy to make, fancy-seeming to eat and serve, and feature an irresistibly sugar-crisp crust and an earthy almond flavor that compliments every conceivable inclusion or topping. Their simplicity and versatility make them a good choice for any occasion that calls for sweets, from a last-minute midnight snack to a family holiday gathering or birthday celebration. Seasonal fruits, chocolate, candied peels, flecks of spice, coulis, custards—you name it, the financiers will take it and run. You simply cannot go wrong.
I want to tell you about how I first found financiers, but the memory is shrouded. It was in San Francisco in the early aughts when I was apprenticing as a chocolatier. I was maybe twenty-one or twenty-two and the only thing I knew how to make was pie dough. It was almost certainly my old friend and boss at Recchiuti Confections who taught me to make financiers, but the details are lost to the mists of time. I am certain that's when I learned to make brown butter because I remember the nerves, the nearby pan of ice water, the compulsive eyeballing followed by the hot rush to the water bath, the anxious parting of the foam with a spatula to check the rust-colored flecks of toasted milk proteins beneath. That, I remember. The rest is lost.
I want to tell you about the writing process, about how lonely this scramble has been lately. I make the financiers, the toppings, take the photo, and sit down to eat. I jot down a few notes but mostly try to be present there at the table, at night, with my partner. I hold my breath that the recipe worked so that I don't have to bleed time and money remaking it, so that we have a good dessert then and there, so that this work is sustainable both financially and spiritually. It's a loaded cake.
I return to dessert. To us. To eating.
My partner helps. A lot. He steps in and styles the plate or pulls out his camera when I get frustrated, which is more often than I'd like. He is patient and grounded when I start to spin out. I can't believe my luck, really. I am bad at visuals. I am bad at a lot of things. I feel overwhelmed by all the things I am bad at, and then I feel bad for feeling bad. Oy vey. Make some cake.
I sit down to write. I publish the blog. Or maybe it's an article for my gig at the Waco Insider. I post on social media, the usual plea veiled in nonchalance, "please read! If you like my work, repost!" It's a scream into the void. It's a net cast into an empty ocean. Or maybe my net's full of holes.
Kitchen work is usually background work. I came to really love that. It's sweat and grunt and thrill and chocolate up to your armpits from fishing wayward wafers of dried pear out of the bottom of the enrober tank. Then it's back home to shower off. You make something tangible and then disappear. I do miss that occasionally. Very, very occasionally. I don't miss retail, the work I've done before and after and in between the kitchen gigs. Writerly self-promotion feels like retail. Buy me! Read me! Somebody pay me!
I am extra grateful for this weekly Canto from Gustavo Arellano:
"When you become a Brand, you live and work toward the Brand. You do everything possible to protect the Brand until you become the Brand.
A Brand is amoral and selfish. It stands only for itself, and relates to others by what it can take from them. The Brand thinks it's perfect.
The Brand sucks.
I've never wanted to be what people think I should be. I'm always going to be what *I* want to be."
There it is. Praise be.
Writing is wonderfully lonely most of the time. Sometimes it is un-wonderfully lonely. Creative work requires space, but the work does not happen in a vacuum. It requires people for inspiration and connection and interviews and finally, it requires an audience. Without these elements, the writer disappears up her own naval.
I take walks with my dog and my mom down the pasture fence. I cook. One foot in front of the other. I sit on the porch with my partner. I visit with my parents next door. We cook. I watercolor badly. I try to read books. I haven't read a book in its entirety in years. I am broken.
If anything, the pressure for making this work sustainable boils down to fear. I don't want to lose this. I must loosen my grip.
Let's bake.
Every pastry chef has a financier recipe, and most of the recipes are similar or the same. It's what you mix in, the shape of the baking mold, what sauce you serve it with, what magic you conjure from winter citrus or summer berries (or whatever) that sets your recipe apart. Maybe you mess with the nuts (pistachios!), maybe you grind your own nuts instead of buying meal. Maybe you toast garam masala in the brown butter or infuse the cream with a fancy vanilla bean, cacao nibs, cardamom, or toasted coconut.
Maybe you burn your tongue eating hot financiers straight from the muffin tin.
On you go.
---
Financiers with caramelized brown sugar apples and bittersweet cocoa cream
Serves 6 to 8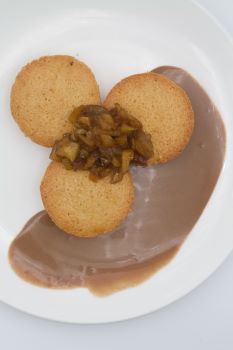 This financier recipe is David Leibowitz's with a few tiny tweaks (namely baking for longer that Liebowitz recommends) and Dorie Greenspan has a good one too. Both will tell you more about the recipe's history (originally dreamed up by a 19th century Parisian baker who needed a mess-free treat for his busy stockbroker customers). Both will also tell you to make this recipe your own.
I caramelized some granny Smith apples and made a very bitter cocoa cream sauce to compliment all that sugar in the cake and conjure fall in a low-key, non-PSL kind of way. You can follow my lead or veer off on your own. You may have toppings in your fridge or cupboard already. Go on a raid. Get creative or keep it simple. On you go.
Financier Ingredients
1 cup almond flour (or experiment with other nut flours or ground nuts)
3/4 cup plus 2 tablespoons sugar
5 tablespoons flour
generous pinch salt
4 large egg whites, at room temperature
1/2 teaspoon vanilla or almond extract (optional)
2 1/2 ounces brown butter, slightly warm (liquified) (you will start with 3 ounces to make the brown butter)
Caramelized Apple Ingredients
3 small Granny Smith apples peeled, cored, cut into small cubes
1/4 c brown sugar
2 T butter
1/3 c water
pinch of salt
Cocoa Cream Ingredients
1 c heavy cream
2 T cocoa powder
2 T honey (I like Texas wildflower honey)
pinch of salt
Instructions for Financier
Preheat oven to 375ºF and butter the insides of 24 mini muffin tins (you can experiment with other small molds as well) generously with softened butter.
Make the brown butter by placing the butter in a small saucepan over medium high heat. Place a large bowl half full of ice water near the stove. This will help you stop the butter cooking once it has browned.
Stir the butter frequently with a spatula, allowing it to cook and develop a foam. When the foam begins to subside, you will see dark flecks forming at the bottom of the pan and the nutty smell of toasting milk proteins will fill the air. Pull the pan off the heat, continuing to stir until the protein flecks at the bottom are uniformly golden brown. Then immediately plunge the bottom of the saucepan into the waiting bowl of ice water so as to stop the butter from continuing to cook. Set aside and allow to cool (the butter should be liquid and barely warm).
In a medium bowl, mix the almond or hazelnut powder, sugar, flour and salt. Stir in the egg whites and vanilla or almond extract if using, then the browned butter.
Fill mini muffin tins almost to the top, then knock the tin against the counter a few times to even the tops. Bake for 13 minutes, then rotate the pan and bake for approximately 5 or 10 minutes more until cakes are golden brown. Set aside to cool while you make the toppings.
Instructions for Caramelized Apples
In a medium saucepan, add the brown sugar and heat on medium heat, stirring constantly until sugar melts and begins to bubble and smoke slightly. Then VERY CAREFULLY add the water all at once, allowing the caramel to steam and bubble. Once the steam subsides, add apples and butter to the mixture and continue to cook over low heat, stirring to help dissolve any lumps of sugar and to fully coat the apples. Continue to cook the apples until they are translucent the sauce is syrupy. If you cook off too much water, just pour in a few more tablespoons and continue to cook until the sauce is syrupy again. Add salt and set aside.
Instructions for Cocoa Cream
Heat cream in small saucepan until warm, then add the cocoa powder, honey, and salt, stirring to combine until all lumps are gone. Taste and adjust for sweetness. I like my cocoa cream extra bitter because the financiers are pretty sweet, but this is your show. Adjust at will.
Instructions for Plating
Place three financiers on each plate, then top with 2 T of caramelized apples and finally add a smear, splash, dribble or drop of warm cocoa cream. Serve and enjoy!
Tips
-Get to know more about brown butter.
-Use the leftover yolks for crème anglaise or hollandaise.