Delicious, wholesome, comes together in a trice—let this endlessly adaptable biscuit cake be your go-to for brekkers, brunch, or dessert.
Eager to get cooking? Skip To Recipe.
---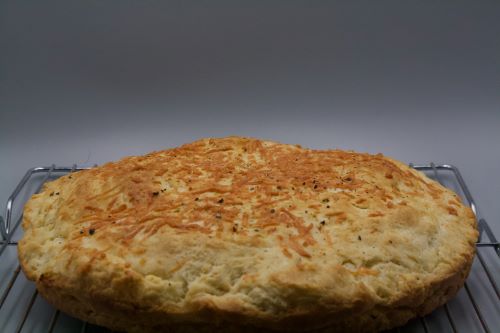 I keep my grandma's copy of The Fannie Farmer Cookbook close, but I don't use it. I don't want to expose it to the inevitable drops and splashes from my careless home cooking. I cook from my own copy of Fannie, a gift from my mom, who has cooked from her copy, a gift from her mother, since before I was born.
If you aren't familiar with this American cookery staple, it is essentially a revised edition of Fannie Merritt Farmer's 1896 Boston Cooking School Cookbook, updated and edited by Marion Cunningham (the cover of my copy claims to have been "revised for the nineties"). It is a fun read for discovering long-lost dishes such as baked kippered herring, luncheon custard, venison steak and chestnut sauce, hominy gems, and picalilli, but in my family it's always been the bible for baking—particularly where biscuits and pie dough are concerned.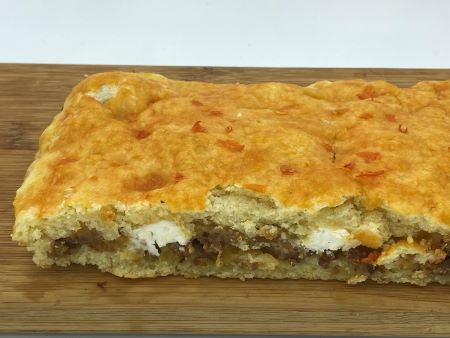 I've made countless Fannie Farmer pies in my day, but I didn't give her biscuits much thought until I moved to Texas and found a life partner with a penchant for biscuit and gravy dinners. Now I'm sold. Biscuits for dinner, for breakfast, with a mug of afternoon tea—sign me up. They can stand in (loosely) for scones, cake, cornbread, and pie crust—a kind of all-purpose quick bread dough requiring six ingredients you already have at home, thirty minutes of low-key kitchening, and absolutely no planning.
[Much of my favorite cooking happens in this liminal space between organization and chaos, commitment and detachment, instruction and instinct. Maybe I am a grey space cook—a grey space everything, a hopeless in-betweener. Maybe. But from that waffling midzone I—and maybe you too—can conjure something tangible and delicious.]
A good biscuit, like a good pie dough, takes a practiced hand, as the best of these doughs are those that are handled the least. But you don't need a perfect biscuit for this cake, and I'd wager you don't ever need a perfectly perfect biscuit, unless you're a professional cook or a perfectionist. I am no longer a professional cook, and I was never a perfectionist, which is why I love this recipe (and probably one of the reasons I'm no longer a professional cook). The point is, free yourself. Free yourself with this this small, low stakes, high return recipe. Free yourself and make this forgivable, crowd-feeding, soul-satisfying cake that's as good three days old and cold from the fridge as it is hot and fresh out the oven.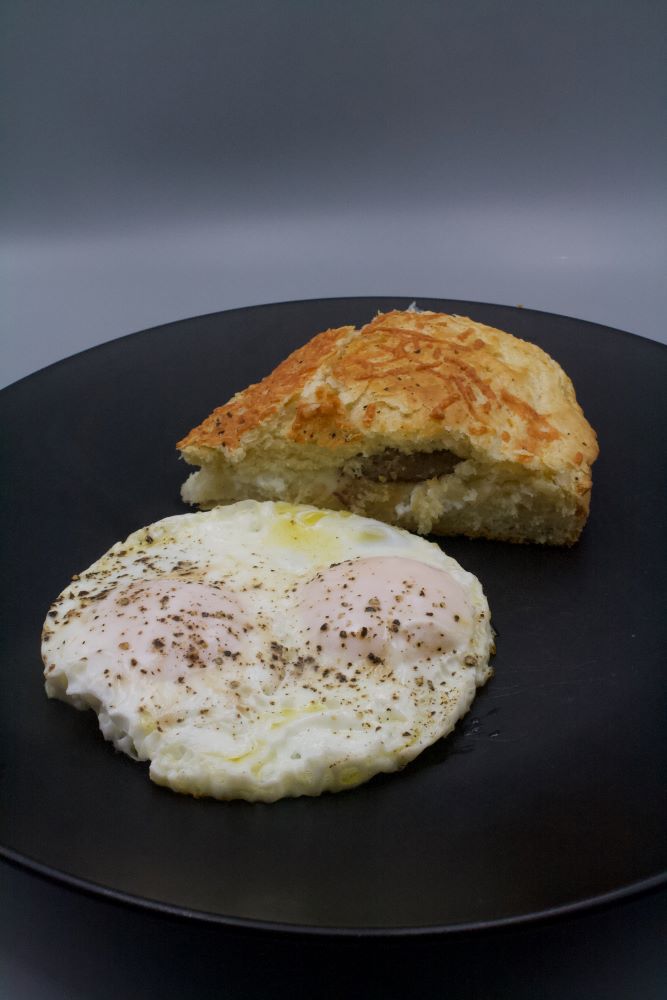 ---
Breakfast Biscuit Cake w/ Hot Honey
Serves 6 to 8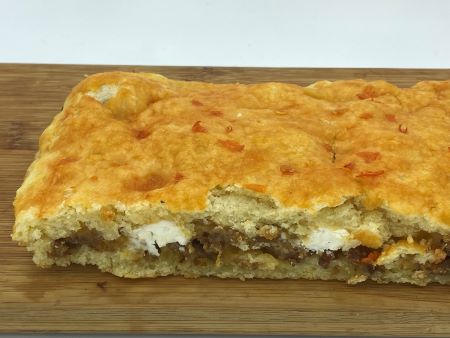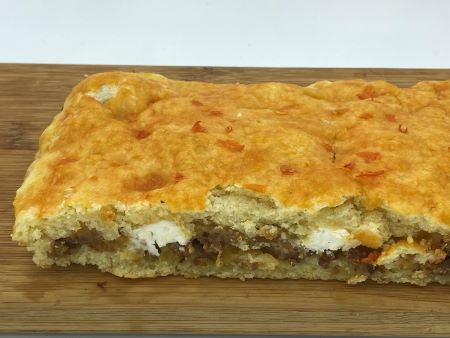 You can roll out of bed without a thought in your head, make this cake, and be pulling it out of the oven by the time you've finished your second cup of coffee. Or, if you're more prepared than I, make it ahead and reheat it either in the oven or by toasting slices on a cast iron pan. I've included some extra filling suggestions in the tips section below, but the possibilities are just about endless from savory to sweet. And if you want to serve eggs or other rich brunchy dishes alongside, try making a lighter, intensely flavored filling such as the za'atar, feta, and goat cheese suggestion I make below.
Fanny's original recipe calls for shortening, and I grew up loving my mom's shortening biscuits. But I never seem to have shortening at home, so I always make this with butter—more flavorful if ever so slightly less flaky. Feel free to use whatever fat you like best; in whatever combination you prefer. I also use a rolling pin for most of my flattening and shaping, because I have hot hands that quickly melt the butter.
Ingredients for biscuits
2 c AP flour
1/2 tsp salt
4 tsp baking powder
1 T sugar
1/2 c butter or vegetable shortening (or lard, or combo of fats)
2/3 c milk
Ingredients for breakfast filling
6 breakfast sausage patties (about 9 or 10 oz) or your favorite breakfast meat, cooked and broken up into uneven chunks (try vegetarian sausage or a pile—1 lb—of mushrooms with chili flakes and fennel seeds for sautéing, if you're avoiding meat)
3 oz grated sharp cheddar cheese
2 oz. feta cheese, drained and crumbled in uneven chunks
1 tsp sambal oelek or your favorite hot sauce (I also like to use a garlicky and funky homemade fermented tabasco sauce)
2 T honey
Instructions
Preheat the oven to 425℉.
Measure dry ingredients in a large bowl, stir to combine, set aside. Cut the butter into roughly one-inch cubes, then place back in the fridge (keep it cold to the moment you need it). Measure the milk, then place it back in the fridge until you are ready to mix the dough. When you're ready, remove butter from fridge, add to bowl of dry ingredients, and cut butter into the flour mixture as you would for pie dough using two knives or a pastry blender. Once the butter is cut into small pieces resembling course, lumpy meal, remove milk from fridge and add all at once to the flour mixture, stirring with a fork until a wet ball forms. Using additional flour to coat your hands when needed, knead the dough in the bowl 14 times, then pop the bowl in the fridge while you prepare the filling.
In a medium frying pan, cook the sausage until done, crumbling into bite size pieces. Set aside on a paper towel to cool and drain. Grate cheddar cheese into a bowl and set aside.
In a small bowl, combine sambal oelek and honey, stir until combined. Taste and adjust for heat, then set aside.
Butter a 9-inch cake pan or, for thinner cake layers and square-shaped servings, an 11 1/2-inch-long baking dish. Remove dough from fridge and divide in half, either by eyeballing or by weighing the dough on a scale and doing the math. Pop one ball of dough back in the fridge while you use a rolling pin to roll out the other ball of dough. Roll dough into a round to fit the bottom of your cake pan or a rectangle to fit into your baking dish. Use your hands to press the dough into corners or help even it out, being careful not to melt that butter. Spread cooled sausage onto the layer of biscuit dough followed by cheeses. Remove dough ball from fridge and repeat the rolling process, then carefully lift the rolled dough and place it on top of the filling. The edges do not have to close around the filling, but they can—it's more of an aesthetic choice than a necessary cooking step.
Brush the top of the cake with hot honey mixture, then bake for 10 minutes, rotate the pan and bake for 10 minutes more. Check your dough with a toothpick if you're unsure about doneness, but on such a high oven your dough should be ready by now.
Allow to cool for 10 minutes or so, then slice and enjoy!
Tips
-For a flavorful and meat-free filling, combine 4 oz feta, 3 oz goat cheese, 4 T za'atar (or more to taste), mix well, adjust for seasoning, and fill cake as directed above. This makes a lovely lunch or brunch with an egg and a green, Greek, or Caesar salad.
-For a sweet treat, bake the biscuit cake plain in a 9-inch cake pan with an egg wash on top, allow to cool, then split carefully in half. Spread your favorite jam on bottom layer of cake. You can stop there and have a lovely dessert or go the extra mile and top the jam with whipped cream or pastry cream, top with other cake half and sift lightly all over with powdered sugar.
-Yes, you can totally make this gluten-free by swapping out the AP flour for a good gluten-free flour mix (I like King Arthur Flour's Measure for Measure flour mix, but use the brand you like best and no, I don't work for King Aruthur, I'm just a huge fan).
-For holiday flavors, consider fooling around with inclusions like candied orange peel, dried cranberries, orange zest, and pecans or dollop some cinnamon-maple whipped cream on the side.
-This is picnic food. Skip the sandwiches and bring a biscuit cake instead.
-Biscuits and pie dough are the kind of kitchen basics that folks get real proprietary about. Everyone has their way of doing things, and their way is usually the right way. There are many ways to skin this cat, and if you want to get into it, read this or this or google away, dear friend.