Pot Pie Francaise! Coq au Riesling, an elegant white wine French stew, is tailor-made for wrapping in tender pastry crust and serving tableside.
Eager to get cooking? Skip To Recipe.
---
I've cooked every Thanksgiving feast since moving to Texas 8 years ago, and I have never once stuck with tradition and cooked a big bird. I don't want to do it, and there's never been a need. There are only ever four of us sitting down to dinner—my folks, my partner, and I—and a giant bird just seems like a booby-trapped hurtle into the unknown. And for what? None of us carry deep emotional attachments to the usual Thanksgiving fare, and I think the longer we gather at the table the more fun it becomes to quest further afield for feast-worthy recipes.
Without a bulky bird to anchor our meal (and monopolize our oven time and fridge space), we are freed up to cook just about anything that tickles our fancy. That might include a classic side like mashed potatoes or a gratin but is just as likely to feature a citrus-fennel salad, roasted Cornish game hens, turkey breast roulades (highly recommended for small groups and those averse to whole bird roasting), or—one year—shrimp, pork, and crab dumplings (khanom jeeb or Thai dim sum) from Chris Yenbamroong's Night + Market cookbook. But for ease of preparation, zazzy presentation, and multi-textured umaminess, this year's coq au vin pot pie took the biscuit. And if there's one thing my family does look forward to during the holiday season, it's pie.
Now, I know what you're thinking, and you're right. You can pot-pie just about anything. And you should. I originally planned to write about an Indian butter chicken pot pie I made recently, before my partner and I dreamed up this coq au vin version, but all I did was make Urvashi Pitre's famous and irresistible Instant Pot recipe and cap it with my go-to Fanny Farmer pie crust. Not super original, but something you should absolutely try with Pitre's butter chicken recipe or just about any rich, be-gravied concoction. If the dish you have in mind is remotely stewy, you can encase it in a tender pastry crust for a glorious meal—easy to make ahead of time, easy to make all around, and impressive to "carve" tableside.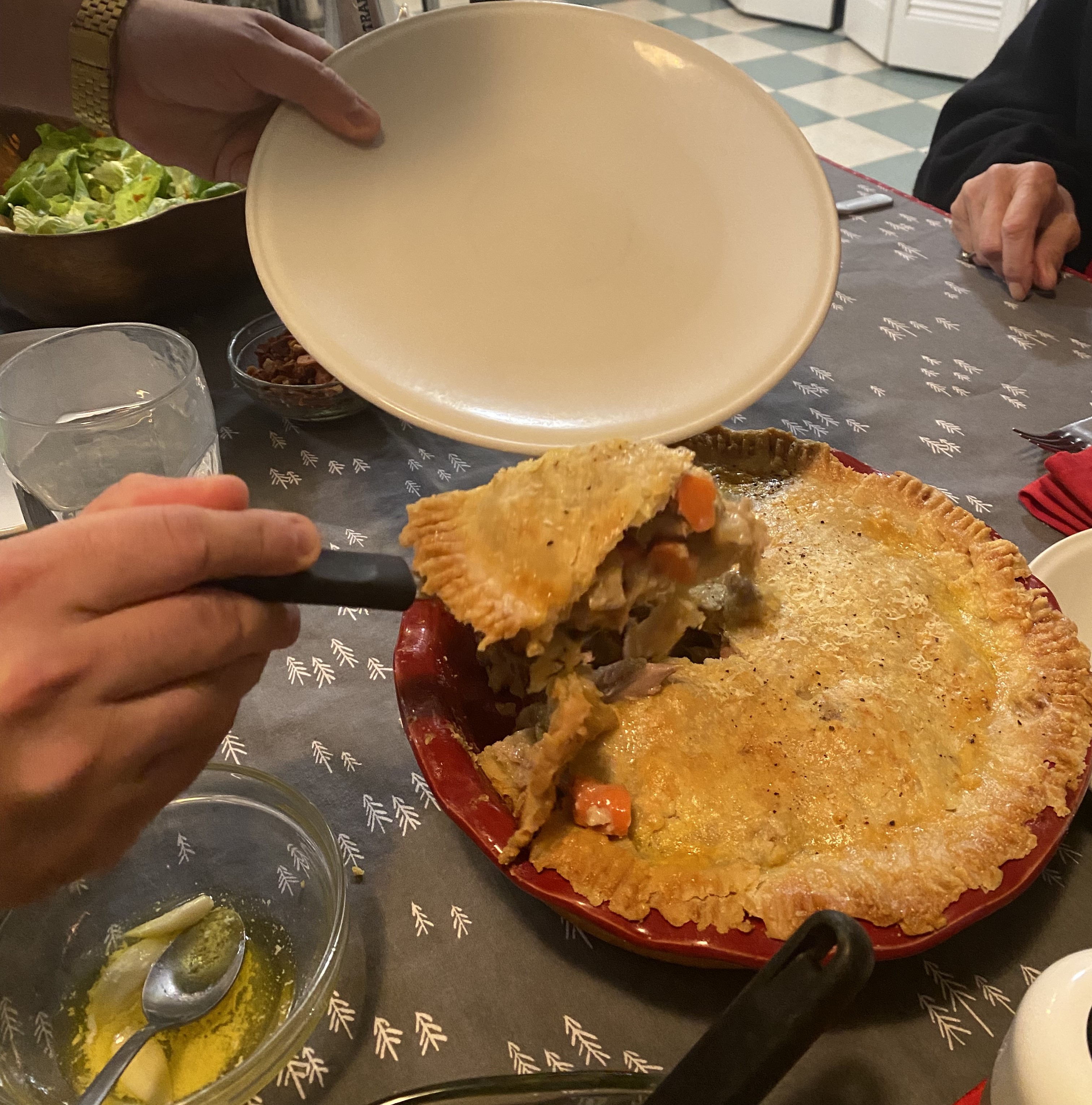 So it proved with this year's coq au Riesling, coq au vin's creamy, white wine cousin. Surround the rich stew with pastry et voilà, you've got a knockout dish that is straightforward, if time consuming, to prepare. A traditional coq au vin relies on crème fraîche and sometimes cream for its silky sauce while fresh tarragon adds licoricey, herbaceous notes. I forgot to buy both crème fraîche and tarragon in the lead up to Thanksgiving, so I bumped up the heavy cream and the substituted tarragon for thyme and sage. The resulting sauce was ample and luxurious, just the kind of thing you want to ooze out of your pie when you dish it up.
So it goes with my cooking—I tweak and adjust and add and subtract depending on what's on hand and what I want and who I'm feeding. Because, surely, one of the most daunting, discouraging aspects of trying a new recipe is the prospect of buying all those specialized ingredients in the face of potential failure. Even if the pain of failure doesn't reach as far as your wallet, you must still contend with wasted ingredients, wasted time, and rumbling bellies.
The cool thing about learning the basics of a stew, any stew (any recipe at all, really), but in this case a fairly forgiving French stew brimming with wine, is that once you get the gist of it you can improvise and tweak to your heart's content. Forgot the crème fraîche? You've got other options. Craving more vegetables? Throw em' in! Want to make a vegetarian version? No problem. I'm not a deft enough cook to veganize this recipe without considerable testing (ka-ching, maybe when I get more writing gigs), but you better believe that with the thoughtful application of vegan butter, nuts in various forms, maybe a few other plant-based odds and ends and some cooking adjustments, you could have an animal-free version of this dish that would thrill any vegan. With enough fat and wine, anything is possible.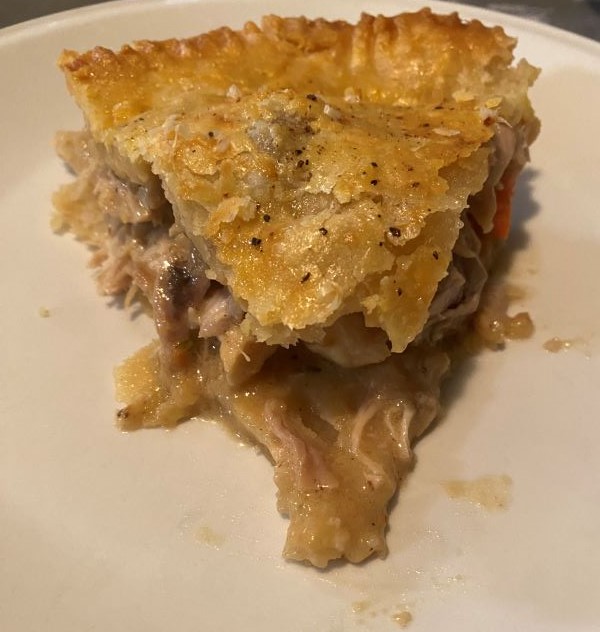 Our Thanksgiving pot pie was such a triumph that I'm feeling blasé about everything that comes after. Maybe it's a symptom of this seasonal cheek-by-jowl feasting, maybe it's my body crying out for lighter fare after all that butter. But I know that once I've recovered, I'll be craving flaky crusts stuffed with belly-warming goodness, and I will circle back to winterizing a favorite dish by blanketing it in pastry. May I suggest you do the same?
---
Serves 6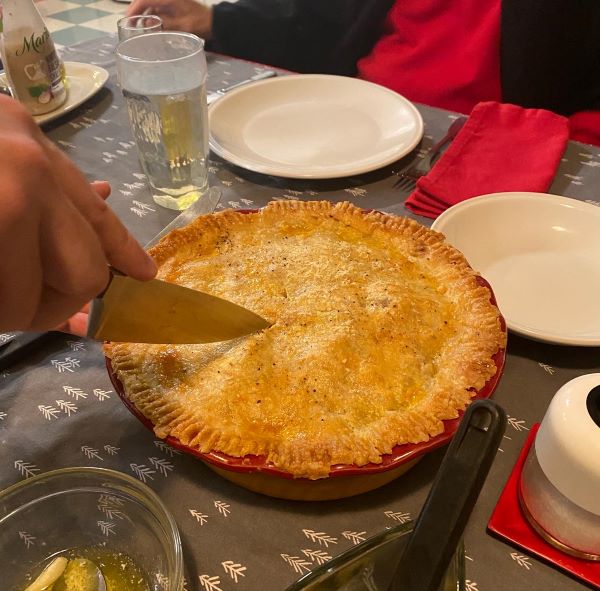 I've written about Fanny Farmer's pie crust before and explained that while Farmer's recipe calls for shortening, I usually use butter, mostly for reasons of convenience. Well, I've changed my tune. All-butter crusts are great, but dividing the pastry fat evenly between butter and shortening yields a flavorful and insanely forgiving dough, and I think we all need a little extra forgiveness around the holidays. If you're not confident rolling pastry, shortening is your friend. If, purely hypothetically, you happen to pick the wrong-sized pie pan and end up having to re-roll your dough (how long have I been cooking?!)—shortening to the rescue! Your crust will still be flaky and tender, and your guests need never know you were temporarily sweating bullets behind the scenes.
The instructions for this stew are tailored for the Instant Pot because it's a dang handy way to make quick work of developing deep flavors and tender meats, and it frees up your oven for other dishes while your stew bubbles. But I've also included tips for using a Dutch oven in the tips below. This is the first time in my life I've had culinary gadgets and the counter space to accommodate them, so I will always offer alternatives for those who can't or prefer not to mess with cooking appliances. I also used boneless and skinless chicken thighs, but if you want a slightly richer broth, use the bone-in, skin-on variety.
Coq au Riesling Ingredients
3 T unsalted butter (or use salted & go easy on the salt below)
2 oz pancetta, sliced into lardons (1-inch-long rectangles) or chopped
6 boneless skinless chicken thighs, roughly 1 1/4 lb
2 tsp (or hefty 2 pinches) salt
2 tsp black pepper, preferably freshly ground
1/2 c onion or shallot, chopped the way you like it
1 T garlic, finely chopped or microplaned
1 T all-purpose flour
1 bottle Riesling, preferably on the dry side
4 sprigs fresh thyme or 1 tsp dried thyme
2 sprigs fresh sage, or 1/2 tsp dried sage
1 1/2 c heavy cream (or 1 c heavy cream and 1/2 c crème fraîche measured in separate containers)
1/2 lemon, juiced
2 medium carrots, peeled and cut into bite-sized pieces
1/4 c peas or other vegetables (optional)
Fanny Farmer's 9″ Two-Crust Pie Dough
2 1/2 c all-purpose flour
1/2 tsp salt
6 T vegetable shortening
6 T cold butter, cut into small cubes
6-7 T very cold water, plus extra just in case
1 egg, for glazing the pie before baking
Instructions
Prepare the pie dough
Combine the flour and salt in a large bowl.
Cut the fats into the flour until the butter chunks are roughly pea-sized and well-distributed throughout the flour.
Gradually stir the cold water into the dough until can be gathered up into a shaggy ball. Depending on the conditions of your flour and your kitchen, you may need to add an extra water tablespoon by tablespoon until the dough can be formed into a mass.
Divide dough ball in half, reform each mound of dough into a ball, wrap in plastic, and chill until ready to use (chill a minimum of 30 minutes to ensure the fat is cold before you manhandle it again).
Prepare the stew
Set Instant Pot to sauté on medium heat.
Add butter to Instant pot followed by pancetta and onions or shallots and sauté until the pancetta is slightly crisped around the edges.
Add garlic and black pepper to the pancetta-onion mixture and sauté just until fragrant, approximately two minutes.
Add the flour and cook about 1 1/2 minutes, stirring as you go to prevent the flour from burning.
Slowly and gradually add the Riesling to the pancetta-onion mixture, stirring to dissolve any flour lumps. This will create a silky roux for the sauce.
Turn off the sauté function on the Instant Pot, then add the chicken thighs, thyme, and sage.
Secure the lid on the Instant Pot and use the "manual" setting to set the pressure cooker to 25 minutes. Ensure the steam release valve is closed and let the Instant Pot get to work while you roll out your pie dough.
Roll the pie dough
While the stew is cooking, grease and lightly flour a 9″ pie pan (you can skip the flour, but I find that it helps make things fail-safe, especially if the pie pan is metal or scuffed).
Lightly dust a cutting board or tabletop with flour, remove 1 dough ball from the fridge, and use a floured rolling pin or your empty Riesling bottle to roll the dough to about 1/8″ inch thick.
Carefully lift the rolled dough and drape it over your pie pan. If the dough is stuck to your rolling surface, slide an offset spatula, bench scraper, or butter knife under your pastry before you lift and move it.
Use your fingers to gently nestle the rolled pie dough into the pie pan. Avoid stretching the dough as this will cause shrinkage during baking.
Trim any overhanging bits of dough from the edge of the pie pan and reserve the scraps to patch up holes and shore up the edges.
Place pie pan back in the fridge until you are ready to fill the pie (no need to cover it with anything, but if you make this well in advance, cover with plastic wrap to prevent the dough from drying out).
Repeat the rolling process with the second ball of dough and place rolled dough on a plate in the fridge until you are ready to assemble your pie.
Finish the stew
When your Instant Pot has finished cooking and depressurizing, turn it off, carefully release the steam, and remove the lid.
Use a slotted spoon to transfer the chicken to a large bowl and set aside. (If you are using bone-in chicken, this is where you'll pull out the bones, once the meat has cooled.)
Use an immersion blender to puree the sauce in your Instant Pot until it is smooth.
Set the Instant Pot on the sauté setting at medium heat.
Add the carrots and any other sturdy vegetables you like (potatoes, parsnips, celery root, trumpet mushrooms, etc.) to the Instant Pot, add the cream, and simmer for 10-15 minutes until the vegetables are the consistency you like (I usually leave them slightly tender-crisp so they can finish cooking in the pie as it bakes). If you are adding quick-cooking vegetables like peas or small mushrooms, add them to the Instant Pot just a few minutes before the vegetables are done cooking.
Use a slotted spoon to transfer the cooked vegetables to the same bowl as the chicken. Set aside.
Add lemon juice to the Instant Pot and simmer the sauce until it has reduced by about half and the consistency is thick enough to coat the back of a spoon.
If you are using crème fraîche, whisk it into the sauce at the end, right before you turn off the heat.
Turn off the Instant Pot, carefully pour the sauce into the bowl with the chicken and vegetables and stir to combine, using a spoon or fork to break up the chicken into shreds and bite-sized pieces. Allow mixture to cool to room temperature.
Assemble the pie
Preheat oven to 375°F and place a rack in the middle of the oven.
When the chicken mixture has cooled, remove the pie pan from the fridge and pour the chicken mixture evenly into the pie pan, mounding it up slightly in the middle.
Remove the other rolled pied dough from the fridge and lay it over the top of your filling.
Seal the edges of the pie dough with your fingers or a fork (or however you like to create a decorative edge).
Cut three small vents in the top of the pie or get creative by cutting a little design into the crust.
In a small bowl, whisk the egg and use a pastry brush to glaze the top of your pie crust with the egg mixture.
Bake pie on the center rack in your oven for 20 minutes. Rotate the pan and bake for an additional 20-30 minutes or until the crust is golden brown.
Remove the pie from the oven and allow to rest for 20 minutes before carving and serving.
TIPS
If using a Dutch oven instead of the Instant Pot, the process is more or less the same. Follow the same directions for the stew, but once you've assembled all of the ingredients in the pot (including the chicken and herbs), place the lid on the pot and cook on medium heat on your stovetop for 20-40 minutes until chicken is fall-apart tender (bone-in chicken will take longer than boneless). If your oven is free and you'd rather not keep an eye on the stove, pop the pot into a 400°F oven for the same amount of time, or until chicken is tender. Then follow the rest of the instructions to cook your vegetables and create your sauce in the Dutch oven.