About Me
---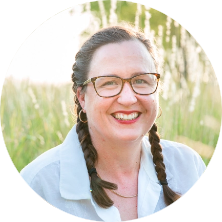 That's me there in that photo, captured in my natural habitat. I am playful. I am smart. I am definitely not sitting on a fire ant mound.
A Babe in the Woods
I was born in Japan (ESL-teaching parents), grew up in Saudi Arabia (ditto), went to boarding school and one ill-fated year of college in New York (I was not ready for Sarah Lawrence), lived in San Francisco for 15 years, and eventually moved to Waco, Texas, to be near my folks and finish that damn degree at Baylor University (hello tuition remission from faculty parents).
I've been an enthusiastic eater from the get-go, but once I started cooking in my first shitty apartment in San Francisco, I became transfixed. The year was 2001.
Mom's spaghetti Bolognese was a triumph (I froze it and carved out a scoop of sauce to reheat every night for dinner), the Epicurious recipe for Swedish meatballs, not so much (no, you cannot substitute yogurt for sour cream because you didn't read the recipe ahead of time and forgot to buy it and no, you can't scoop out all the nutmeg after you upend the bottle over the pan and the top falls off). I had much to learn.
I apprenticed at a Bay Area chocolate company, wriggled my way up from retail associate to production manager, and went on to helm several production kitchens before chucking it all in to finish my bachelors after a 15-year hiatus. After graduation, I worked at a craft whiskey distillery for a couple of years while I marinated on how the hell to change gears—again.
Food is my life, but life is also my life, and writing is my way of balancing the two.
I'm a food writer now, because it's a great way to stay connected professionally to cooking and feeding people without diving back into food hospitality. It's a tough way to make a living and for me and many of my industry friends, it's unsustainable over the long haul. Knowing that, I have nothing but admiration for those who attempt it, particularly the folks who are trying to change the industry for good. I love those people, and I try to snag as many interviews with them as possible for my articles, so I can share their good work.
I'm glad you're here and I hope you read my stuff. If you're a publication, let me write for you! If you want to collaborate on something, holler!
-annie